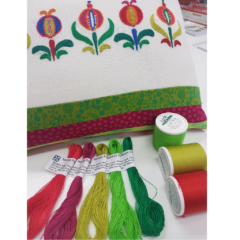 Madeira Lana
Lana is a speciality embroidery thread with the characteristics and appearance of pure wool adding warmth and dimension to decorative stitching on all home sewing and embroidery machines.
A unique wool embroidery thread, strong enough for use on medium to heavyweight fabrics such as wool, linen and lightweight denim. It is particularly suitable for computerized embroidery, overlocking, quilting, bobbin work, free motion embroidery, couching, hand embroidery and cross stitch.
Lana is about three times thicker than standard weight thread and fills designs quickly, meaning at reduced speed Lana produces larger stitches, and the stitched area requires fewer stitches to cover it.
See Colour Charts, while we tried to get the colours as close as we can they can vary depending on your computer screen.
Choose the Buy Now and list the colours you would like the Special Requests box.
20m Skein $3 BUY NOW
200m Reels $18 BUY NOW
50% Wool 50% Acrylic
MADEIRA are renowned for their innovative and superior quality threads and the selection they are able to offer will make your embroidery come alive!!
Did you know that MADEIRA offers Eco-Friendly embroidery supplies? Over the years MADEIRA has set an industry standard for eco-friendly production and responsible behaviour. Most categories of Madeira embroidery threads are Oeko-Tex certified. Oeko-Tex is an international testing and certification system for textiles, limiting the use of certain chemicals.
Read more