John James Embroidery Needles
Embroidery sewing needles are sometimes referred to as Crewel Needles. Embroidery needles are similar in length and diameter as a Sharp needle and they have a sharp point. However, they have a long, extra large eye, which makes threading the needle so much easier when using multiple strands of stranded cotton embroidery thread.
Sizes 1, 2, 3 and 4 are ideal when embroidering on heavy fabric with twisted yarn and this is often called crewel work. The most popular size and commonly used in embroidery is a size 6 however the finer sizes of 8, 9 and 10 are fabulous to use if you prefer a finer and shorter length of needle.
Having difficulty threading the needle! Then use an Embroidery needle for general sewing the long eye makes threading so much easier and quicker!
Size 1 contains 12 needles
Size 6 and 10 contains 16 needles
Multi size packs: 3/9 and 5/10 contains 16 needles
All sizes $3.50 for a packet
Size 1 BUY NOW
Size 6 BUY NOW
Size 10 BUY NOW
Mixed 3/9 BUY NOW
Mixed 5/10 BUY NOW
John James was formed in 1840 and registered in 1902. The name John James is synonymous with the very best of needle manufacture, quality and reliability. The John James brand of "Finest Quality Needles" continues to be recognised by needle workers around the globe.
You may also like…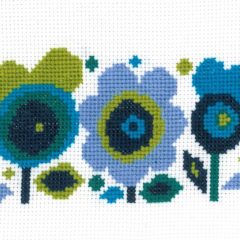 Flower Power Blue Cross Stitch
Designed by Mary Self
I am always captivated by the graphic designs on ceramics so when I saw the Elayne Fallon Weston Teapot from Staffordshire Potteries I just had to stitch it. It is so reminiscent of the 1960s and 70s that as I was stitching the cool blue/teal/lime colourway I wondered how it would look in hot red/orange/pink colours.
Available as a Full Kit, as a Printed Pattern or as a PDF pattern that will be emailed to you
Full Kit $39 BUY NOW
Printed Pattern $20 BUY NOW
PDF Pattern $8 BUY NOW
Finished size: 27 x 7 cm
Cross Stitch Kit includes
14 count White Aida Cloth
A high quality steel needle
Pre-cut six stranded cotton threads
A colour cross stitch chart
A colour guide picture
An instruction sheet
Read more